SFC ASKS QUESTIONS AT RHEINMETALL AGM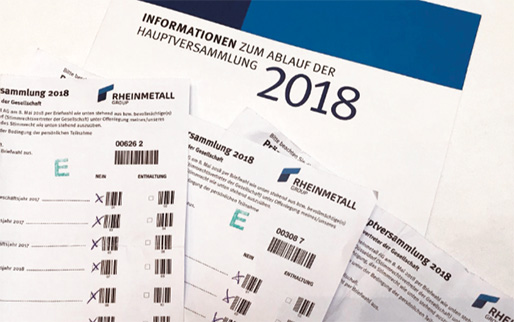 On 8 May 2018, Fondazione Finanza Etica (FFE) and Bank für Kirche and Caritas, on behalf of SfC – Shareholders for Change, attended the annual general meeting of Rheinmetall, a leading German defence company.
SfC's interventions criticised the export of bombs from Sardinia to Saudi Arabia by the Italian subsidiary RWM Italia SpA. «The bombs exported to the Saudis are used to attack Yemen, in a war that has no legitimacy from the point of view of international law and has generated thousands of civilian deaths», declared Andrea Baranes of Fondazione Finanza Etica, who intervened at the meeting together with a representative of Bank für Kirche und Caritas and Rete Italiana Disarmo (Italian Disarmement Network).
The company evaded most of the 20 questions asked by SfC but confirmed its aim to further invest in its site in Sardinia (€10-20m in the next two years).